Here is CurrentHow's daily briefing for the 2nd of October, 2016 :-
1. UK sets out timetable to leave the European Union by 2019 :-
British Prime Minister Theresa May said on Sunday that the U.K. would begin the formal process of leaving the European Union by the end of March 2017. That means Brexit could happen in 2019.  Britain would trigger Article 50 of the EU treaty in the first quarter of next year, she said. That act will start the clock on two years of exit negotiations with the other 27 members of the group. This is the first time since the Brexit vote in June that the British government has set out a clear timetable for the hugely complex task of unwinding its 40-year relationship with the U.K.'s biggest trading partner.
2. Dozens killed in a stampede in Ethiopia :-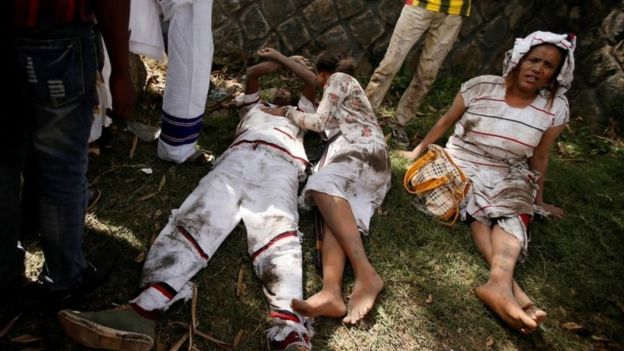 Dozens have been killed and injured in Ethiopia's Oromia region after security forces confronted protesters at a festival, witnesses say. Some people died in a panicked stampede after police employed tear gas, rubber bullets and baton charges, they said. Thousands had gathered for a religious festival in Bishoftu, 40km (25 miles) from the capital Addis Ababa. Some reports said police responded after anti-government protesters threw stones and bottles. Others said demonstrators were entirely peaceful.
3. Hungary holds referendum on migrant plan :-
Hungarians headed to the polls Sunday to vote on a referendum that would approve or reject European Union migrant quotas for the country. A majority "no" vote is widely expected. The country's Prime Minister, Viktor Orban, has spearheaded a campaign asking Hungarians to reject the refugee resettlement plan. Before the referendum, advertisements blanketed airwaves painting migrants in a negative light. Leaflets distributed throughout the country, along with posters and billboards, warned of the dangers of accepting migrants. "We lose our European values and identity the way frogs are cooked in slowly-heating water," Orban said Friday. "Quite simply, slowly there will be more and more Muslims, and we will no longer recognize Europe."
 To recieve Daily Briefs in your inbox, press the 'Follow me' button.