Here is CurrentHow's Daily Briefing™ for the 20th of November, 2016 :-
1. Over 100 killed, 150 injured as an Indian express train derails near the city of Kanpur :-
At least 116 people were killed early Sunday when a Patna-Indore Express train derailed near India's northern city of Kanpur, according to a police official in Kanpur.
Rescue teams are working on the last overturned car, said Rajesh Modak, deputy inspector general of police in Kanpur. The other cars have been cleared of people, Modak said.
More than 150 passengers have been injured, according to the National Disaster Relief Force (NDRF). More than 40 people are seriously injured, Rahul Srivastav, press officer for the Uttar Pradesh police, told CNN.
Kanpur, in Uttar Pradesh state, is nearly 300 miles southeast of New Delhi, the capital.
Railways Minister Suresh Prabhu said on Twitter that senior officers were immediately deployed to the accident site.
Prabhu also said the National Disaster Response Force has been activated and is headed to the scene.
2. Thousands protest in Malysia, demanding the Prime Minister to step down :-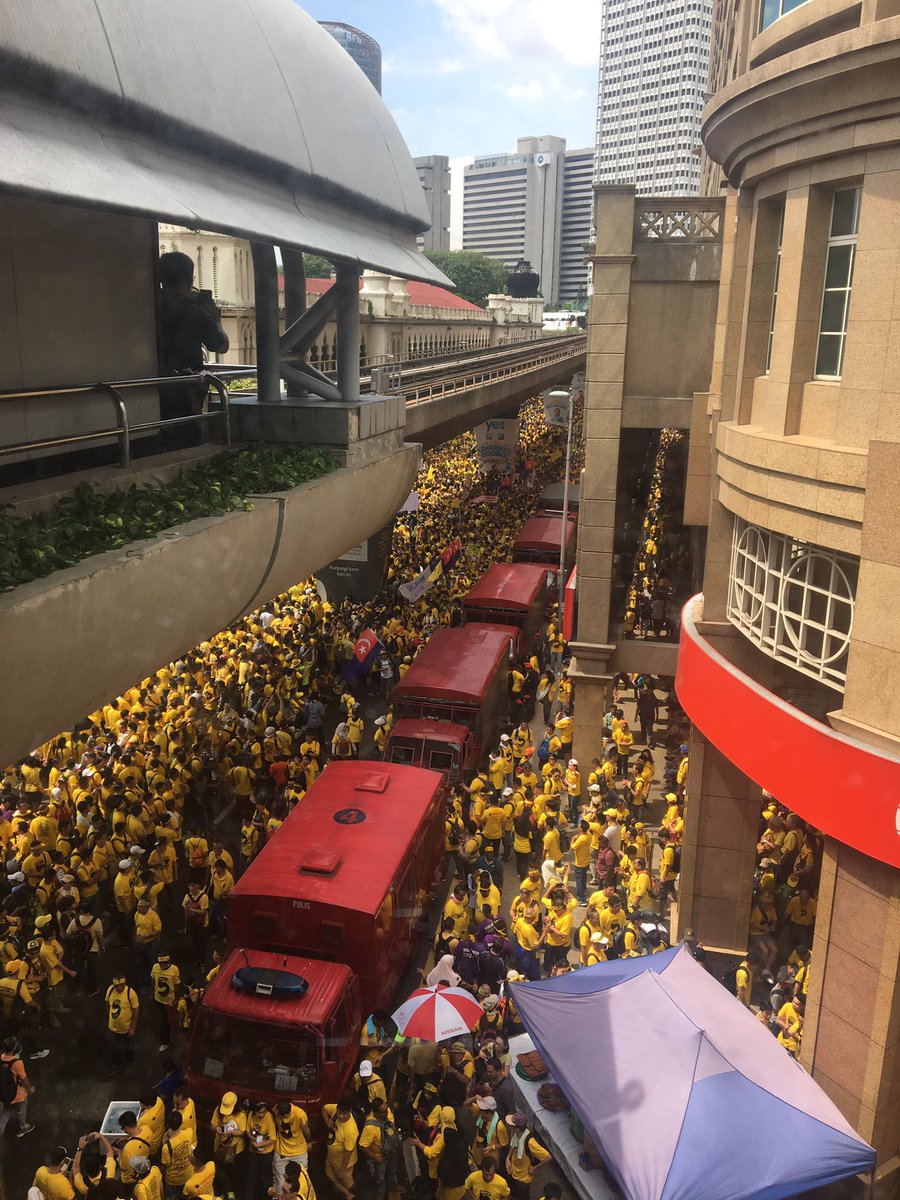 Thousands of people wearing yellow T-shirts flooded the streets of Malaysia's capital, Kuala Lumpur, on Saturday to call for the resignation of embattled Prime Minister Najib Razak.
The rally was organized by Bersih, a coalition of nongovernment organizations that want to reform and clean up Malaysia's electoral process. Bersih means "clean" in Malay, and Saturday's rally was the fifth phase of street protests the group has undertaken. Bersih supporters wear yellow T-shirts.
A statement from the Prime Minister's office dismissed the protest as the rantings of a politically ineffective and anti-democratic opposition movement.
While Malaysians have the right to assemble peacefully, the "right is not absolute," and authorities could take actions to ensure public safety, the statement said.
"It is unlawful for any parties to try to unseat a democratically elected government via street protests," it said. "They should play by the rules of our democracy and wait until the next election so that the majority of Malaysians can again choose their government via the ballot box."
Public dissatisfaction with Najib has grown, especially after news broke over alleged financial mismanagement of a government-run fund called 1Malaysia Development Berhad, or 1MDB. 1MDB was formed in 2009 to invest in property, infrastructure and energy projects.
Saturday's gathering was peaceful, and monsoon rains eventually disbursed the crowd.
3. The people of UK want Queen Elizabeth to pay on her own for Palace repairs :-
Thousands of people have signed an online petition calling for
Queen Elizabeth
II to pay nearly 370 million pounds for repairs to
Buckingham Palace
from her own pocket instead of resorting to taxpayer funds.
The "Make
Royals
Pay for Palace Renovation" was created on 38 Degrees campaign site and has gathered 88,389 signatures within days since the UK government announced on Friday that the British monarch's London home would undergo a 369 million-pound essential refurbishment.
The 90-year-old monarch will remain in residence during the work, which is set to begin in April next year.
The Queen's household budget was awarded a 66 per cent pay rise to pay for the 10-year refit of the palace in central London, designed to future-proof the ageing building.
There is a national housing crisis, the NHS is in crisis, austerity is forcing cuts in many front line services. Now the Royals expect us to dig deeper to refurbish Buckingham Palace. The Crown's wealth is inestimable. This is, in a word, outrageous," says the petition addressed to the UK Chancellor.
The Queen's personal wealth is estimated at 340 million pounds and she privately owns Sandringham House and Balmoral Castle in the UK.
The petition wants the repair funds to go out from there rather than the Crown Estate revenues, which go to the UK Treasury and a percentage of which is then passed on to the Queen as a Royal Grant.
If you want to provide us with any feedback, email us at [email protected]