Here is CurrentHow's Daily Briefing™ for the 21st of November, 2016 :-
1. UK woman arrested in Dubai after reporting rape :-
A British tourist has been arrested in Dubai on charges of extramarital sex after telling police a group of British nationals raped her in the United Arab Emirates, according to a UK-based legal advice group called Detained in Dubai.
A UK Foreign Office spokeswoman said she could not discuss specific details, saying: "We are supporting a British woman in relation to this case and will remain in contact with her family."
It is understood that the Foreign Office is also in contact with two other British nationals.
The press office for the British Consulate in Dubai said it was supporting a British woman and her family, adding: "We have raised the case with the UAE Government, and would like to see it progress as quickly as possible."
Stirling said the woman had been released on bail but had had her passport confiscated.
If convicted of consensual sex, the woman faces anywhere from a month to three years behind bars, followed by deportation, according to Faisal Alzarooni, a criminal defense lawyer who represents clients who've been charged with both rape and consensual sex in Dubai.
2. Trump demands apology from Hamilton cast after Mike Pence booed :-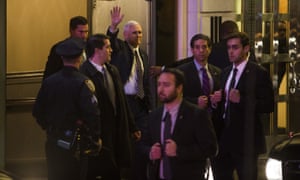 The US vice-president elect,
Mike Pence
, was booed by a theater audience when he attended the hit hip-hop musical Hamilton in New York on Friday night – and then had a message about protecting diversity delivered to him from the stage after the curtain call.
On Saturday, President-elect Donald Trump accused theatre-goers of having "harassed" Pence, writing on Twitter: "Our wonderful future V.P. Mike Pence was harassed last night at the theater by the cast of Hamilton, cameras blazing.This should not happen!"
He also demanded an apology: "The Theater must always be a safe and special place.The cast of Hamilton was very rude last night to a very good man, Mike Pence. Apologize!"
On Friday night, as Pence entered the auditorium for the Broadway show at the Richard Rogers Theater, video taken by onlookers and posted to social media picked up some audience members cheering him, then more people booing him.
Pence walked down the aisle towards his seat and waved briefly as people in the theater clearly began to realize who he was. Then the boos began.
The show was occasionally disrupted by more loud booing at Pence. Patrons did not lose sight of the irony of a strong conservative, with a record of opposition against gay rights, attending a hip-hop musical with a pointedly diverse cast, as noted in an early report by Variety magazine.
At first it was thought Pence had left the show at the interval, but it later turned out that he had returned to his seat, possibly after the lights went down, at the beginning of the second act in an attempt to minimize disruption.
3. Pope Francis extends Catholic priests' right to forgive abortion :-
Pope Francis has extended the powers of Catholic priests to forgive abortions, making the announcement in an apostolic letter released Monday.
It continues a special dispensation granted last year for the duration of the Year of Mercy, which finished Sunday.
"I wish to restate as firmly as I can that abortion is a grave sin, since it puts an end to an innocent life. In the same way, however, I can and must state that there is no sin that God's mercy cannot reach and wipe away when it finds a repentant heart seeking to be reconciled with the Father," the letter states.
"May every priest, therefore, be a guide, support and comfort to penitents on this journey of special reconciliation," the letter continues.
"I henceforth grant to all priests, in virtue of their ministry, the faculty to absolve those who have committed the sin of procured abortion."
The Catholic Church has long held that abortion is a grave "moral evil," with the Church's strong position on the issue driving many Catholic pro-life groups.
The
Catechism of the Catholic Church
says that every human life "from the moment of conception until death is sacred" — and that any Catholic who procures an abortion incurs automatic excommunication, a penalty that often only a bishop can lift.