Here is CurrentHow's Daily Briefing™ for the 15th of December, 2016 :-
1. Aleppo Syria battle : Evacuation of rebel-held east under way :-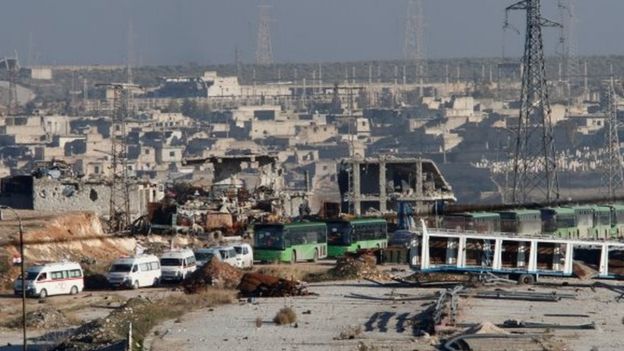 An operation to evacuate a besieged rebel-held enclave in the Syrian city of Aleppo is now well under way.
Syrian state TV showed footage of ambulances and a long line of green buses leaving eastern Aleppo.
The evacuation of civilians, rebels and wounded people had been due to take place on Wednesday but an earlier ceasefire deal collapsed.
Government forces took nearly all remaining rebel-held parts of Aleppo this week after a four-year battle.
Syrian state TV had earlier said that "4,000 rebels and their families would be evacuated from eastern districts on Thursday", adding that "all the procedures for their evacuation" were ready.
A statement from the Russian Centre for the Reconciliation of Opposing Sides in Syria, part of Russia's ministry of defence, said the Syrian authorities had guaranteed the safety of all members of the armed groups who decided to leave Aleppo. Hezbollah, the Lebanese Shia Muslim movement backing the Syrian government, said there had been "big complications" but that "intensive contacts… led to re-consolidating a ceasefire to exit armed fighters from eastern districts".
The rebels confirmed a fresh ceasefire had come into effect at 03:00 GMT and that a new deal had been agreed.
2. 21st Century Fox announces $14.8 billion deal to take over Sky news :-
21st Century Fox said Thursday that Sky had agreed to a takeover offer worth $14.8 billion as tycoon Rupert Murdoch bids to create a global media giant.
Murdoch's Fox group said in a statement "that it has reached agreement with Sky plc on the terms of a recommended pre-conditional cash offer" to buy the rest of the European pay broadcaster, beyond the 39 percent it already owns.
The deal is worth £10.75 ($13.40) per Sky share, or $14.8 billion (14.2 billion euros ) in total for the cash purchase, the statement said.
"As the founding shareholder of Sky, we are proud to have participated in its growth and development," 21st Century Fox said in its statement.
"The enhanced capabilities of the combined company will be underpinned by a more geographically diverse and stable revenue base," the company said.
"It will also create an improved balance between subscription, affiliate fee, advertising and content revenues. This combination creates an agile organization that is equipped to better succeed in a global market."
21st Century Fox is one of the world's largest entertainment companies, with a vast portfolio of cable, broadcast, film, pay TV and satellite assets across six continents.
Its broadcasting and cable properties include including FOX, Fox News Channel, Fox Business Network, National Geographic Channels, STAR India, 28 television stations in the United States and more than 300 international channels.
3. Asian Development Bank trims India 2016 growth forecast to 7% :-
The Asian Development Bank slightly lowered its 2016 growth forecast for developing Asia on Tuesday, reflecting slower-than-expected expansion in India.
Developing Asia, which groups 45 countries in the Asia-Pacific region, is now expected to expand 5.6 per cent this year, rather than 5.7 per cent, the ADB said in a supplement to its Asian Development Outlook 2016.
The ADB trimmed its 2016 growth estimate for India to 7.0 per cent from 7.4 per cent due to weak investment, agricultural slowdown and the government's recent demonetisation.
But India's growth forecast for 2017 was kept at 7.8 per cent.
The Manila-based lender kept China's growth forecasts for this year and next at 6.6 per cent and 6.4 per cent, respectively.
"Asian economies continue their robust expansion in the face of global economic uncertainties," said ADB deputy chief economist Juzhong Zhuang.
"Structural reforms to boost productivity, improve investment climate, and support domestic demand can help maintain growth momentum," said Zhuang.
The growth estimate for Southeast Asia was kept at 4.5 per cent for this year and 4.6 per cent in 2017, supported by strong growth in Malaysia and the Philippines.
Economies in South Asia are projected to expand by 6.6 per cent in 2016, down from the previous estimate of 6.9 per cent. For next year, growth in that region will bounce back to 7.3 per cent, the ADB said.
4. US Federal Reserve raises rates for First Time in 2016, Anticipates 3 increases in 2017 :-
The U.S. central bank has the potential to stand in President-elect Donald Trump's way if it raises borrowing costs to squelch growth. However, Fed Chairwoman Janet Yellen emphasized she would take a wait-and-see approach before deciding how to respond to Mr. Trump's emerging economic agenda.
"Our decision to raise rates should certainly be understood as a reflection of the confidence we have in the progress the economy has made" and that it is expected to make, Ms. Yellen said at a press conference.
The Federal Reserve showed increasing optimism about the U.S. economy and signaled interest rates would rise at a faster pace than previously projected, as it unanimously approved its second rate increase in a decade.
At the central bank's last policy meeting of the year on Wednesday, officials said they would nudge up the federal-funds target rate by a quarter percentage point, to between 0.50% and 0.75%. Fed officials pointed to a strengthening labor market nearing full employment and inflation moving more rapidly toward targeted levels.
The Fed's more aggressive tone about rates took steam out of a stock-market rally that has been pinned to hopes for faster growth spurred by the incoming Trump administration's plans to cut taxes, boost spending and cut regulations.
5. World Bank predicts Brexit won't impact developing Asian economies as feared :-
Britain's shock decision to leave the European Union will not be as damaging to developing Asian economies as feared, the World Bank said on Wednesday as it increased its growth forecast for the region this year. Countries in the Mekong region led by Myanmar are projected to expand at the fastest pace in the next three years, the bank said in an updated report on East Asia and the Pacific, though Thailand was projected to be a laggard.
World Bank chief Asia economist Sudhir Shetty said the upgrade for the regional economy came after the group noticed positive early results from the June 23 vote by Britain to leave the EU. "That has translated also into relative stability in terms of exchange rates and in terms of capital flows, so that has been helpful for this region," he told Asia-based journalists in a video conference from Washington.
Global markets went into freefall immediately after the vote as dealers feared a recession in Britain that could hit the global economy. But since then, world markets have rallied and Britain's economy is picking up. Shetty said based on the bank's initial analysis "the bottom line right now is that there's likely to be very little impact of Brexit" over the short term, as the region is "not very connected" to Britain in terms of trade and financial links.
The region's developing economies will grow 5.8 per cent this year, the Washington-based institution said, up 0.1 percentage point from its forecast made in April. It also tipped 5.7 per cent growth in 2017 and 2018.
The bank, however, warned a hike in US interest rates, widely expected in December, and a potential sharp slowdown in China could impact its forecast.
Myanmar, which has embraced democracy following decades of military rule, will grow 7.8 per cent this year, 8.4 per cent in 2017 and 8.3 per cent in 2018. Once isolated Myanmar has rapidly transformed itself into one of the world's fastest growing economies since its once brutal junta handed power to a
reformist government in 2010, sparking the lifting of most international sanctions and a flood of foreign investment.
The impoverished nation has boasted average growth rates above eight per cent the past five years. However, while the World Bank report noted stronger-than-expected growth in Thailand during the first half of 2016 it added that "a broad-based and self-sustaining recovery has yet to take hold." It projected 3.1 per cent expansion for 2016, up from 2.8 per cent last year.
Thailand's economy has struggled with years of political instability since the military seised power in 2014.
To provide us with any feedback, write us on [email protected]