Here is CurrentHow's Briefing™ for the 17th of March 2017 :-
1. Sirens blare as Japan holds first civilian missile evacuation drill, fearing North Korea :-
Sirens blared and loudspeakers broadcast warnings in Japan's first civilian missile evacuation drill on Friday, conducted in a fishing town by officials wary about the threat of North Korean missiles.
The exercise comes more than a week after North Korea launched four ballistic missiles into the sea off Japan's northwest coast, with one rocket landing about 200 kilometres (124 miles) from the town of Oga.
Friday's drill played out a scenario in which North Korea had fired a ballistic missile on the Japanese islands. "The missile is seen to have landed within a 20-kilometre (12-mile) boundary west of the Oga peninsula," a speaker blared during the evacuation. "The government is currently examining the damage."
Residents of the largely rural peninsula jutting into the ocean about 450 kilometres (280 miles) north of the capital, Tokyo, made their way to a designated evacuation centre equipped with emergency kits and protective gear. Schoolchildren in another part of town crouched down to the ground before hurrying inside a gymnasium.
"I've seen missiles flying between foreign countries on television, but I never imagined this would happen to us," said Hideo Motokawa, a 73-year-old who participated in the drill. Officials said the exercise was prompted by growing concern about the regional security situation. Japanese Chief Cabinet Secretary Yoshihide Suga told reporters on Friday the missile drill was worthwhile, to help educate the public.
North Korea is also developing nuclear-tipped missiles, in defiance of UN Security Council resolutions and sanctions, and conducting nuclear tests in what US Secretary of State Rex Tillerson described earlier this week during a visit to Japan as an "ever-escalating threat".
Tillerson began his first Asian visit as secretary of state, focusing on finding a "new approach" on North Korea after what he described as two decades of failed efforts to denuclearise the insular nation. "Let me be very clear: the policy of strategic patience has ended. We are exploring a new range of security and diplomatic measures. All options are on the table," Tillerson told a news conference today in Seoul.
He said any North Korean actions that threatened the South would be met with "an appropriate response". "If they elevate the threat of their weapons programme to a level that we believe requires action, that option is on the table," Tillerson said when asked about military action.
2. Former US President Barack Obama did not tap Trump's phone : Senate panel :-
The Republican and Democratic leaders of the Senate Intelligence Committee said on Thursday they saw no evidence to support President Donald Trump's claim that the Obama administration tapped his phones during the 2016 presidential campaign.
"Based on the information available to us, we see no indications that Trump Tower was the subject of surveillance by any element of the United States government either before or after Election Day 2016," Republican Chairman Richard Burr and Senator Mark Warner, the committee's Democratic vice chairman, said in a statement.  The White House, meanwhile, maintained that Trump stood by his allegation that Obama ordered Trump Tower to be wiretapped during the 2016 campaign. "He stands by it," White House spokesman Sean Spicer said at a daily briefing.
Trump, a Republican, made the accusation in a series of early morning posts on Twitter on March 4, six weeks after he took over the presidency from Democrat Barack Obama and amid rising scrutiny of his campaign's ties to Russia. The top Republican in Congress, House of Representatives Speaker Paul Ryan, on Thursday added his voice to those rejecting Trump's contention.  The point is, the intelligence committees in their continuing, widening, ongoing investigation of all things Russia, got to the bottom – at least so far – with respect to our intelligence community that – that no such wiretap existed," Ryan told reporters.
Trump accused Obama of wiretapping him during the late stages of the campaign, but provided no evidence. Obama said through a spokesman that it was "simply false."
"How low has President Obama gone to tap my phones during the very sacred election process. This is Nixon/Watergate. Bad (or sick) guy!," Trump wrote.
At least four congressional committees added the startling accusation in their investigations of possible Russian meddling in the election campaign and Russian ties to Trump and his associates.
On Wednesday, House of Representatives Intelligence Committee Chairman Devin Nunes, a Republican, and top Democrat Adam Schiff told reporters they had seen no evidence that Trump Tower was tapped and said they would ask Federal Bureau of Investigation Director James Comey about the issue during a public hearing on Monday. Ryan told reporters he received the same intelligence briefing as Nunes and Schiff.
Trump appeared to back away from his accusation of wiretapping in a Fox News interview on Wednesday night. "But wiretap covers a lot of different things. I think you're going to find some very interesting items coming to the forefront over the next two weeks," Trump said.
3. France school shooting: Teenage boy arrested after four hurt :-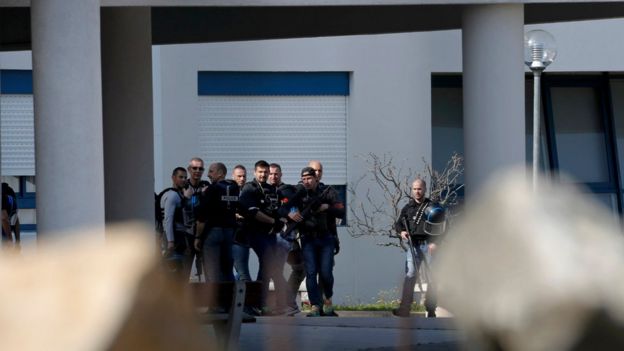 A school shooting, which left three students and a headteacher wounded, appears to have been a "crazy act" carried out by a teenager obsessed with firearms, France's Education Ministry said in a statement.
The 17 year old suspect opened fire at Tocqueville high school, in Grasse, at about 12:40 local time (11:40 GMT).  More people were injured in the ensuing panic. Anti-terrorist commandos from the elite Raid force were sent to the scene. The suspect, who was reportedly armed with a rifle, two handguns and two hand grenades, was arrested "very quickly" after launching the attack.
Education Minister Najat Vallaud-Belkacem told reporters on Thursday afternoon the suspect was "fragile". "It was a crazy act by a youth who is unstable and fascinated by guns," she said, going on to praise the headmaster's actions during the attack as "heroic".
Initial conflicting reports suggested there may have been a second shooter, but it appears this is not the case, although earlier on Thursday interior ministry spokesman Pierre-Henry Brandet said they had not ruled it out entirely and were still "searching for a possible second perpetrator".
The local prosecutor has confirmed the shooting had "no link" to terrorism. Instead, it is thought the student had bad relations with his classmates. However, President Francois Hollande said France should remain "vigilant" and stay under a state of emergency.
Grasse, the capital of France's perfume industry, is about 44km (27 miles) from the city of Nice, where a lorry attack in July killed 86 people. France remains under a state of emergency after a string of deadly attacks in the past 18 months.