Here is CurrentHow's Briefing™ for the 1st of April, 2017 :-
1. Protesters set Paraguay Congress on fire :-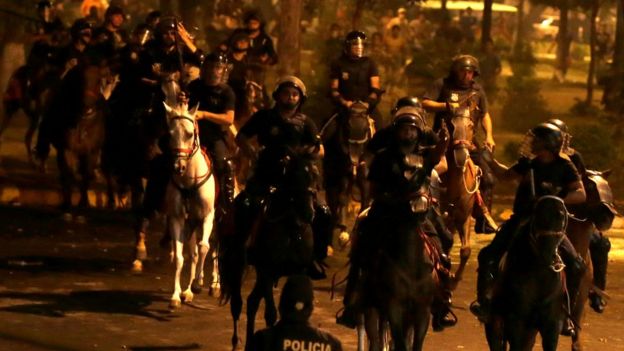 Protesters stormed and set fire to Paraguay's Congress on Friday after the Senate secretly voted for a constitutional amendment that would allow President Horacio Cartes to run for re-election, a change that will also require approval by the House.
The country's constitution has prohibited re-election since it was passed in 1992 after a brutal dictatorship fell in 1989.
"A coup has been carried out. We will resist and we invite the people to resist with us," said Senator Desiree Masi from the opposition Progressive Democratic Party.
Television images showed protesters breaking windows of the Congress and clashing with police, burning tires and removing parts of the fences surrounding the building. Police in riot gear responded by lobbing tear gas and firing rubber bullets.
Several politicians and journalists were injured, local media reported, and Interior Minister Tadeo Rojas said many police were hurt.
Cartes called for calm and a rejection of violence in a statement released on Twitter.
"Democracy is not conquered or defended with violence and you can be sure this government will continue to put its best effort into maintaining order in the republic," he said.
The number of casualties was unknown. Several people were inside Congress as the flames spread and television images showed firefighters arriving on foot to fight the blaze concentrated on the first floor of the building.
The unrest coincides with a rare high-level international event in the landlocked South American country. Thousands of businessmen and government officials descended on the capital city of Asuncion this week for the Inter-American Development Bank's annual board of governors meeting.
While Paraguay long suffered from political uncertainty, the soy and beef-exporting nation has been attracting investment in agriculture and manufacturing sectors in recent years as Cartes offered tax breaks to foreign investors. Instability in the country of 6.8 million is a concern for its much larger neighbors Brazil and Argentina.
The Senate voted earlier on Friday during a special session in a closed office in Congress rather than on the Senate floor. Twenty-five lawmakers voted for the measure, two more than the 23 required for passage in the 45-member upper chamber.
Opponents of the measure, who claim it would weaken Paraguay's democratic institutions, said the vote was illegal.
The proposal goes to the House, where it appeared to have strong support. A vote expected to take place early on Saturday was called off until the situation calmed down, said the chamber's president, Hugo Velazquez.
"I call for calm," Velazquez said. "Tomorrow we will not take any decision; we will not hold a session."
Several Latin American countries, including Paraguay, Peru and Chile, prevent presidents from running for consecutive terms in a region where the memories of military dictatorships remain ripe.
Others, including Colombia and Venezuela, have changed their constitutions to give sitting presidents a chance at re-election.
Paraguay's measure would apply to future presidents and Cartes, a soft-drink and tobacco mogul elected to a five-year term in 2013.
His strongest backers want him to be allowed to run for another term next year, but critics of the measure have said a constitutional change aimed at benefiting a sitting president would be unfair.
The change would also apply to former President Fernando Lugo, whose supporters want to be allowed to run for another term. Congress voted to oust Lugo in 2012 saying he had failed in his duty to maintain social order following a bloody land eviction. The rapid impeachment drew strong criticism in Latin America, especially from fellow leftist governments.
A similar re-election proposal had been rejected in August and Congress this week voted to change the rules that required lawmakers to wait a year before voting again.
"Everything was done legally," said Senator Carlos Filizzola of the leftist Guasu Front coalition, which supports the constitutional amendment as a way of allowing Lugo to return as Paraguay's leader.
2. US Congress votes to repeal Obama's internet privacy regulations :-
The US House voted on Tuesday 215-205 to repeal regulations requiring internet service providers to do more to protect customers' privacy than websites like Alphabet Inc's Googleor  Facebook Inc.
The White House said earlier Tuesday that President Donald Trump strongly supports the repeal of the rules approved by the Federal Communications Commission in October under then-President Barack Obama.
Under the rules, internet providers would need to obtain consumer consent before using precise geo-location, financial information, health information, children's information and web browsing history for advertising and marketing.
Last week, the Senate voted 50-48 to reverse the rules in a win for AT&T Inc, Comcast Corp and Verizon Communications Inc.
The White House in its statement said internet providers would need to obtain affirmative "opt-in" consent from consumers to use and share certain information, but noted that websites are not required to get the same consent. "This results in rules that apply very different regulatory regimes based on the identity of the online actor," the White House said.
Websites are governed by a less restrictive set of privacy rules overseen by the Federal Trade Commission.
FCC chairman Ajit Pai in a statement praised the decision of Congress to overturn "privacy regulations designed to benefit one group of favoured companies over another group of disfavoured companies." Last week, Pai said consumers would have privacy protections even without the Obama internet provider rules, but critics say they will weaken.
The American Civil Liberties Union, which opposes the measure, said companies "should not be able to use and sell the sensitive data they collect from you without your permission".
An Internet & Television Association statement called the repeal "an important step toward restoring consumer privacy protections that apply consistently".
One critic of the repeal, Craig Aaron, president of Free Press advocacy group, said major Silicon Valley companies shied away from the fight over the rules because they profit from consumer data.
"There are a lot of companies that are very concerned about drawing attention to themselves and being regulated on privacy issues, and are sitting this out in a way that they haven't sat out previous privacy issues," Aaron said.
Representative Michael Capuano, a Massachusetts Democrat, said Tuesday that Comcast could know his personal information because he looked up his mother's medical condition and his purchase history. "Just last week I bought underwear on the internet. Why should you know what size I take? Or the colour?" Capuano asked. "They are going to sell it to the underwear companies."
Comcast declined to comment.
Representative Michael Burgess, a Texas Republican, said the rules "unfairly skews the market in favour" of websites that are free to collect data without consent.
Republican commissioners, including Pai, said in October that the rules would unfairly give websites like Facebook, Twitter Inc or Google the ability to harvest more data than internet service providers and thus further dominate digital advertising. The FCC earlier this month delayed the data rules from taking effect.
3. Terror outfits' new laptop bombs may evade airport security :-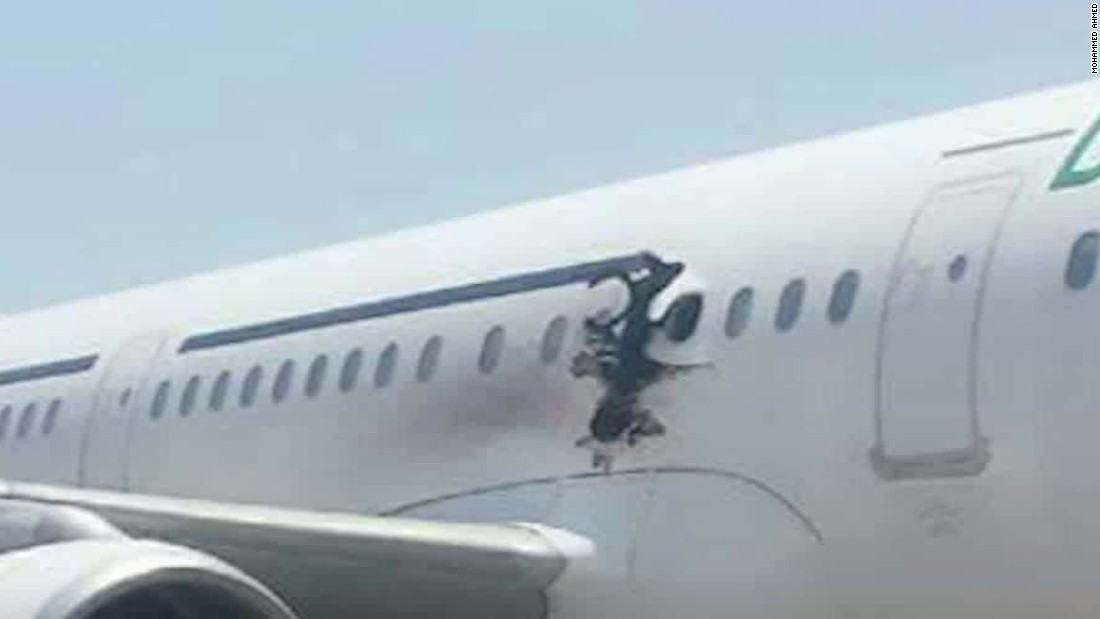 The Islamic State and al Qaeda terror groups, developing a bomb small enough to fit in  laptop that could get past airport scanners, may have prompted the US and the UK to ban air travellers from eight Muslim majority nations from carrying large electronic devices onboard, media reports have said.
According to new intelligence, the terror groups have been testing the new bomb on airport scanners they have obtained.
The concern about such an explosive hidden in a laptop or an electronic device prompted the US and the UK to prohibit travelers flying out of 10 airports in eight countries in the Middle East and Africa from carrying laptops and other large electronic devices aboard planes.
"As a matter of policy, we do not publicly discuss specific intelligence information. However, evaluated intelligence indicates that terrorist groups continue to target commercial aviation, to include smuggling explosive devices in electronics," CBS News quoted a statement from the Department of Homeland Security.
"The US government continually re-assesses existing intelligence and collects new intelligence. This allows DHS and TSA to constantly evaluate our aviation security processes and policies and make enhancements to keep passengers safe. To that end, we use a robust security system that employs multiple layers of security, both seen and unseen," it said.
The military and intelligence community have become increasingly concerned in the last few months about the potential ability of terror outfits to get bombs on board airplanes, according to several US officials.
The US has been tracking specific intelligence from al Qaeda in the Arabian Peninsula (AQAP), al Qaeda in Syria and ISIS, officials told CNN.
FBI experts have tested variants of the laptop bombs using different battery and explosive configurations to assess how difficult it would be for airport screeners to detect them, it said.
The airline restriction, which took effect March 21, bans many electronic items from the cabins of planes flying directly to the US from Jordan, Qatar, Kuwait, Morocco, UAE, Saudi Arabia, Egypt and Turkey.
4. British Police says all those arrested after London attack now released :-
All 12 people arrested in connection with the March 22 attack that left five people dead close to the British parliament have now been released without charge, London's Metropolitan Police said on Saturday.
British-born Khalid Masood sped across Westminster Bridge in a car, killing three pedestrians and injuring dozens more, before running through the gates of parliament and stabbing a policeman to death. He was then shot dead by police.
"All those arrested in connection with the terrorist attack in Westminster on Wednesday, 22 March have now been released with no further action," the Metropolitan Police said in a statement.
Eleven of those arrested had already been released, and on Saturday police freed the 12th person, a 30-year-old man arrested on March 26 in Birmingham on suspicion of preparation of terrorist acts.
Police say Masood had copied the low-cost, low-tech attacks encouraged by Islamic State, but investigators have not found any evidence linking Masood to extremist groups at home or militants abroad.
British media have reported Masood accessed the encrypted messaging service WhatsApp moments before the attack, leaving open the possibility someone else could have been involved.
"Whilst we believe at this stage Masood acted alone in his execution of the attack, our investigation continues to establish whether there are any others involved in any way and I do emphasise this is a live investigation," Craig Mackey, acting head of London police, said on Wednesday.
5. India to retain the tag of the world's fastest growing major economy :-
Emerging markets face newer challenges in the form of inward looking policies of protectionism and increased geopolitical tension, Finance Minister Arun Jaitley said today as he pegged India's GDP growth at 7.7 per cent in 2018.
Speaking at the second annual meeting of the New Development Bank (NDB) here, Jaitley said global growth is moving upwards and is expected to improve further in 2017-18.
"Indian economy is expected to grow at 7.2 per cent in 2017 and at the rate of 7.7 per cent in 2018," he said.
Jaitley said emerging market economies (EMEs) face newer challenges in the form of inward looking policies of protectionism of some economies, global financial condition, policies of the United States and increased geopolitical tension.
He said India has sought USD 2 billion loans for various projects from the NDB, which is set up by the emerging nations India, China, Brazil, Russia and South Africa.
"India has huge unmet infrastructure funding needs..    .USD 646 billion is required in next 5 years (for financing infrastructure)," Jaitley said.
He said growth in emerging and developing countries is picking up and news from economies of BRICS countries is "encouraging".
"I hope that NDB will emerge as a development bank and help in funding of emerging economies," Jaitley added.