Here is CurrentHow's Briefing™ for the 4th of April, 2017 :-
1. Russia blast: Investigators looking for two Central Asians :-
Investigators in Russia are looking for two suspects, a man and a girl from Central Asia, in the wake of a bomb blast in the St Petersburg metro system, in which at least eleven people were killed and several others injured.
Russian state-owned news agency Tass quoted a source in the law enforcement agencies as saying that that the suspects came to the attention of law enforcers after checking records of video surveillance cameras.
The source citing preliminary data said that the suspects are natives of Central Asia, both aged about 20.
"Suspect profiles will be sent to police stations," the source added.
At least eleven people were killed and several others injured in an explosion inside a metro train at the Sennaya Square station in Russia's St Petersburg.
According to the National Anti-terrorist Committee, the blast claimed 11 lives and injured forty-five people.TASS news agency reported that an unidentified device exploded in a train car.
Russian Prime Minister Dmitry Medvedev called the St. Petersburg explosion a 'terrorist attack.
"Those who suffered during the terrorist act in the St. Petersburg metro will be provided with all the necessary assistance. All instructions to the Ministry of Health and the Ministry of Emergency Situations are given. My most sincere condolences to the families and friends of the victims of the explosion. This is a common pain," Medvedev wrote on his Facebook page.
Russian President Vladmir Putin expressed his condolences and indicated that there will be an investigation with respect to the explosion.
Putin said he was in contact with the Federal Security Service (FSB) and law enforcement to determine the reason behind the explosion.Seven metro stations in the city have been closed following the blast.
2. Columbia starts to bury 273 landslide victims, even as search continues :-
Scores of decomposing cadavers were being released for burial on Monday as rescuers continued to search for victims of weekend flooding and landslides that devastated a city in southern Colombia, killing at least 273 people.
Desperate families queued for blocks in the heat to search a morgue for loved ones who died when several rivers burst their banks in the early hours of Saturday, sending water, mud and debris crashing down streets and into houses as people slept. Bodies wrapped in white sheets lay on the concrete floor of the morgue as officials sought to bury them as soon as possible to avoid the spread of disease. The government has begun vaccination against infection.
"Please speed up delivery of the bodies because they are decomposing," said Yadira Andrea Munoz, a 45-year-old housewife who expected to receive the remains of two relatives who died in the tragedy.
But officials asked for families to be patient.  "We don't want bodies to be delivered wrongly," said Carlos Eduardo Valdes, head of the forensic science institute.
The death toll has ticked up during the day as rescuers searched with dogs and machinery in the mud-choked rubble. Many families in Mocoa have spent days and nights digging through the debris with their hands despite a lack of food, clean water and electricity.
President Juan Manuel Santos, who made a third visit to the area on Monday, blamed climate change for the disaster, saying Mocoa had received one-third of its usual monthly rain in just one night, causing the rivers to burst their banks. Others said deforestation in surrounding mountains meant there were few trees to prevent water washing down bare slopes.
More than 500 people were staying in emergency housing and social services had helped 10 lost children find their parents. As many as 43 children were killed. Families of the dead will receive about $6,400 in aid and the government will cover hospital and funeral costs.
Even in a country where heavy rains, a mountainous landscape and informal construction combine to make landslides a common occurrence, the scale of the Mocoa disaster was daunting compared with recent tragedies, including a 2015 landslide that killed nearly 100 people.
Colombia's deadliest landslide, the 1985 Armero disaster, killed more than 20,000 people. Santos urged Colombians to take precautions against flooding and continued rains. Flooding in Peru last month killed more than 100 people and destroyed infrastructure.
3. Entry-level computer programmers may no longer qualify for H1B visa :-
The US has ruled that being a simple computer programmer would no longer qualify as a specialist profession, which is a must for the issue of a H-1B work visa, in a move that could have far-reaching implications for thousands of Indians applying for such a visa.
The ruling reverses the US' more than decades and a half old guidelines, that were issued in the context of addressing the new millennium needs.
The US Citizenship and Immigration Services (USCIS) has ruled that an entry level computer programmer position would not generally qualify as a position in a "specialty occupation".
The clarification on what constitutes a "specialty occupation" superseding and rescinding its previous guidelines of December 22,2000 was issued by the USCIS through a new policy memorandum on March 31.
The move could have far reaching implications on thousands of Indians applying for H-1B work visas for the next fiscal beginning October 1, 2017, the process for which started yesterday.
Issued just one business day before the USCIS started accepting H-1B?visa petitions, the policy memorandum titled 'Rescission of the December 22, 2000 Guidance memo on H1B computer related positions,' has sent shocked waves across the companies and immigration attorneys, as their application was based on the 2000 guidelines on what constitutes a specialty occupation.
"The fact that a person may be employed as a computer programmer and may use information technology skills and knowledge to help an enterprise achieve its goals in the course of his or her job is not sufficient to establish the position as a specialty occupation," the USCIS Policy Memorandum ruled.
"Thus, a petitioner may not rely solely on the (current version of the) Handbook (that describes specialty occupation) to meet its burden when seeking to sponsor a beneficiary for a computer programmer position. Instead, a petitioner must provide other evidence to establish that the particular position is one in a specialty occupation," the memorandum said.
According to the USCIS, the December 22, 2000 memorandum entitled 'Guidance memo on H-1B computer related positions' is not an accurate articulation of current agency policy.
"USCIS is rescinding it to prevent inconsistencies in H-1B and H-1B1 adjudications between the three service centers that currently adjudicate H-1B petitions," it said.
The USCIS argued that the 2000 memorandum was based on 1998-1999 and 2000-01 editions of the Occupational Outlook Handbook, which is now obsolete.
The 2000 memorandum, it said, did not accurately portray essential information from the Handbook that recognised that some computer programmers qualify for these jobs with only "2-year degrees." PTI
While the memorandum did mention beneficiaries with "2-year" degrees, it incorrectly described them as "strictly involving the entering or review of code for an employer whose business is not computer related."
The Handbook did not support such a statement, it said.
As such, "it is improper to conclude based on this information that the USCIS would "generally consider the position of programmer to qualify as a specialty occupation," the memorandum told USCIS personnel involved in adjudication of H-1B applications and petitions.
The Bureau of Labour Statistics in its Occupational Outlook Handbook identifies 10 different kinds of computer and information technology (IT) occupations.
Topping the list is computer and information research scientists with a doctoral or professional degree, who normally invent and design new approaches to computing technology and find innovative uses for existing technology. They study and solve complex problems in computing for business, medicine, science, and other fields.
The H1B visa is a non-immigrant visa that allows American firms to employ foreign workers in occupations that require theoretical or technical expertise. The technology companies depend on it to hire tens of thousands of employees each year.
In 2015 their median salary was USD 110,000. It is followed by Computer network architects (whose median salary in 2015 was USD 100,000), Computer programmer (USD 79,530), Computer support specialist (USD 51,000).
The median salary for Computer systems analysts was USD 85,500 followed by Database Administrators (USD 81,000), Information Security Analysts (USD 90,000), network and computer systems administrators (USD 77,000), Software developers (USD 100,000) and web developers (USD 65,000).
4. To get around liquor ban, Rajasthan to call state highways 'urban roads' :-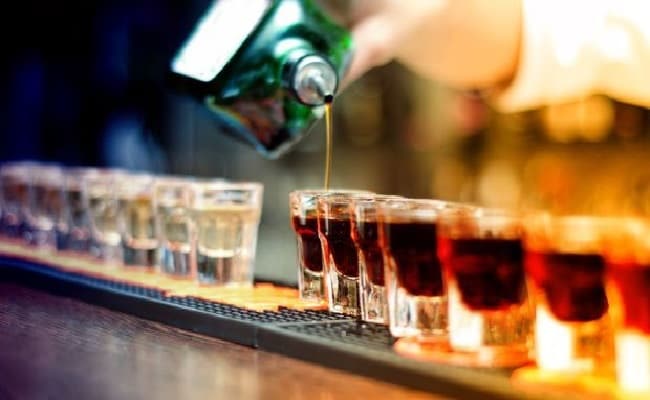 To get around the Supreme Court's liquor ban, Rajasthan will start calling highways passing through populated areas as "urban roads" if they are connected by bypasses.
The Supreme Court had ordered the closure of all liquor vends along — up to a distance of 500 metres — state and national highways.
The court was trying to curb drunken driving. (India has the highest number of road accident deaths in the world.)  The order kicked in on Saturday, April 1.
The court had on Friday refused to take back the order or give state governments more time to implement the order, but it did reduce the distance up to which liquor vends had to shut down from 500 to 220 metres in populated areas.  The order also covers pubs, hotels, and restaurants. Since the order kicked in, thousands of vends around the country have been forced to stop serving alcohol.
5. India manufacturing hits 5 month high :-
Activity in India's manufacturing sector expanded at the fastest pace in five months in March as output and new orders accelerated, according to a private survey that also showed price pressures eased.
The Nikkei Manufacturing Purchasing Managers' Index, compiled by IHS Markit, rose to 52.5 in March, from 50.7 in February, the third month in a row that is has been above the 50 mark that separates growth from contraction.
Output and new orders sub-indexes rose to their highest since October 2016, suggesting the world's fastest growing major economy has largely recovered from Prime Minister Narendra Modi's shock decision in November to ban high-value currency notes.
The move caused huge disruptions to daily life and businesses in the largely cash-based economy.
The survey also showed encouraging signs on the inflation front, which has come squarely back on the central bank's radar in recent months.
"The favorable demand environment was supported by relatively muted inflationary pressures. Given that input costs rose at a softer pace, a whopping 96 percent of goods producers kept their selling prices unchanged over the month," said His Markit economist Pollyanna De Lima.
Input prices rose at a slower pace compared to February, and there was a corresponding slowdown in the pace of output price rises as well, which likely helped increase demand.
The new orders index rose to a 5-month high of 53.6 from 51.3 the previous month.
Indian inflation picked up pace in February to 3.65 percent, after slowing in the previous month to 3.17 percent, its lowest in at least five years, but it was still below the central bank's 4 percent target.
The Reserve Bank of India shifted its stance to neutral from accommodative and kept the policy repo rate unchanged at 6.25 percent in its February meeting, opting to wait for more clarity on inflation trends and the impact of demonetization.
Economic growth for the October-December quarter came in at 7.0 percent, a bit slower than the 7.4 percent in the previous quarter but much faster than the 6.4 percent expansion forecast by economists in a Reuters poll, many of whom had expected a sharper hit from the cash crunch.
India's lower house of parliament on Wednesday passed key legislations paving the way for implementation of a nationwide goods and services tax (GST) from July, which is expected to spur economic growth by 1 to 2 percentage points.
Most manufacturing and services items will be taxed at standard rates of 12 percent and 18 percent under the four-slab GST structure.